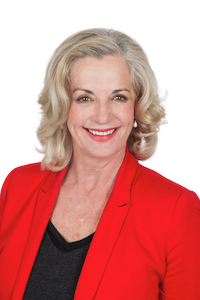 Molly Markwell
Sales Associate
Mobile:

0405 409 709

Office:

6102 3624

Phone:

0405 409 709

Email:

Click here

vCard:

Download
Getting to know
Molly Markwell
Molly has successfully completed all State and Federal requirements of study and accreditation in order to sell Real Estate in Western Australia.

Her vision is to create a dynamic personal brand with Hallmark Realty that strives to ensure the clients are the first consideration in all transactions.

In late 1987, she commenced a confectionery manufacturing business in Wembley which grew into a very vibrant company. This transformed into the ever popular Chokeby Road which operated as a manufacturing and retail outlet in Rokeby Road, Subiaco.

There were a number of branded retail outlets throughout Perth suburbs. A thriving wholesale business with many imported confectionery lines evolved very successfully.

After a number of years Molly moved into the premium (table wine) section the wine industry. She operated as a single operator marketing premium brands. Success with these brands opened a lucrative opportunity to move to Sydney that lasted 23 years.

Molly has the hands on experience of working within and closely with retail, wholesale and manufacturing. She has successfully marketed and launched brands in very competitive markets in Perth and the Eastern States.

These experiences created the opportunity to work with a very wide range of people and client bases, ranging from single owner business proprietors to CEO's of some of the largest companies in Australia.

The key to her success across her working life has been the ability to communicate effectively with people. Negotiating successful business deals and building solid business relationships has been enjoyable, fun and very rewarding.

Now, Molly is coming back home to her beloved Subiaco where she looks forward to helping her clients achieve great success with their real estate needs.

Specialising in Subiaco and Western Suburbs.